These aren't all of the bikes I have owned. I let a few really nice ones get away. I traded away a Team Issue Carlton and I traded away a Masi Gran Criterium. I have a few others that are of no special significance. These six bikes on my web page all have, for one reason or another, special personal historical, creative and aesthetic meanings for me. Two are from one of the best hand builders in the United Kingdom. One dates from the late 1970's big bang birth of mountain biking in Northern California.  One is a one off repli-mod. One is maybe an unheard-of rare bike. They range from eccentric re-dos to vintage collectible to one off "unobtainable". Most of them are the result of very much outside the box thinking. They are all keepers. With one exception, I bought them all new.
Before I started on my first resto-mod project I decided that there was no such thing as how a bicycle should look. Just like other utilitarian objects such as furniture, automobiles or houses, bicycles, need to meet utilitarian functions first. Beyond that, in my re-doing, I was limited only to the extent of my design skills, patience, imagination, and craftsmanship. I was looking beyond the horizon instead of at the up close four walls of some long time traditional how a bicycle should look aesthetic.  A few of these bikes are very eccentric builds. They are all very much expressions of who I am and the ways that I find and look at design in general and my own bicycles in particular. Some people may be put off by what I have done with these fine bicycles. To a great extent these bicycles are the way they are because of my background in art and design. Understanding that design options can sometimes be limitless is both a blessing and a curse. But I will always fall back on the compliment given to my W. B. Hurlow built "S.W. Cotten" by the late master bicycle builder Brian Baylis…
" I think that paint job is outstanding! Very well done and unique, which is a good combination in my book. I love to see this kind of stuff. From my experience, almost anything that is well done ends up looking great. Kudos!"
Brian was commenting on only one of my bikes but this out of the box encouragement from him told me to look beyond the horizon…beyond what had been done before and to trust my own judgment.
This web page and to a great extent, these bicycles, would not be possible without the help of six people.
Hank Ebert is a long time friend and a pro photographer. You can easily recognize which pictures Hank took. They jump out at you and pull your eyes right into the subject. Hank took the pics of my Lawwill-Knight Pro Cruiser several years ago and set the bar very high for how I want my bicycles to be photographed and shown. Hank took the wonderful photographs of my Lawwill-Knight Pro Cruiser, my Lawwill-Knight Pro Cruiser 2, my Red Devil and my W.B. Hurlow resto-mod.
Ron Glowczynski is a Master Wrench. His creative, diagnostic and problem-solving skills are unmatched. Ron always kept the bike history, my history, in mind when we were planning and executing four of these bikes.
Aaron Dykstra, owner of Six Eleven Bicycles in my home town, Roanoke Virgina is a five time Best in Show winner at the North American Handmade Bicycle Show, the largest in the world. Hanks pictures of Aaron's work on my Lawwill-Knight Pro Cruiser 2 tell the depth of my indebtedness to Aaron.
Eddie Albert is a scholarly bicycle historian and he gave me a couple of hours of his time answering many questions as I was documenting my Red Devil.
Don Koski is a member of the Mountain Bike Hall of Fame and his support and networking allowed my Lawwill-Knight Pro Cruiser 2 become a one off reality. Plus, Don is full of stories about the old days.
These six bicycles are, for the most part, the products of about ten post-retirement years of me piddling around in my basement, procrastinating, working in spurts, getting bored, painting, re-painting, a lot of networking and consulting with friends both inside and outside the bicycle world.  I have a couple of friends who are designers. It's interesting to me to run bicycle color ideas by non-bicycle people. I'm a pretty crappy mechanic but I can do nice things with paint, files, sand paper and my vivid imagination. I am a great networker.
My Lawwill-Knight Pro Cruiser was hand built and painted in Oakland, California and has its original paint. My Red Devil and Lawwill-Knight Pro Criuiser 2 were painted professionally. I painted my W.B. Hurlow and S.W. Cotten. Custom Chrome Plating in Grafton Ohio did the beautiful chrome work on my Red Devil.
This web site is still under construction. I have work to do before showing my Mountain Klein, W. B. Hurlow and S.W. Cotten.
Through these projects I have gotten to know two members of the Mountain Bike Hall of Fame, four very knowledgeable bicycle historians, one five time Best in Show winner at the North American Handmade Bicycle Show, one expert craftsman, one expert bicycle mechanic, one slacker and one world class scoundrel and one really bad LBS. I have renewed old friendships, built on existing friendships, depended on the helpfulness of strangers and lost confidence in a couple of people. I have not really spent much money because for the most part these bikes were created with parts on hand or gifted parts. Well…O.K.. I did spend a lot of money on two of them.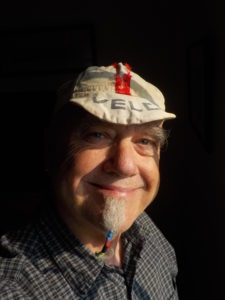 It's been an adventure.
Dick Howard
Roanoke, Virginia
November 2016
I'm on Facebook. IM me.