Lawwill-Knight Pro Cruiser 2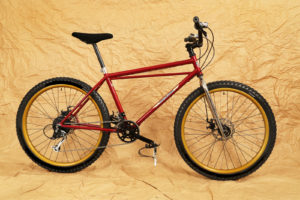 In the Fall of 2013,  a few days after I got my newly rest0red Lawwill-Knight Pro Cruiser ( see the previous story) back home from being restored at a local bike shop, I was sitting in my basement looking at it. This was the first time the bike had been in rideable condition since about 1988. It still looked great. I was really happy to still own such a rare piece of mountain biking history. The fact that I had owned it since it was new made it even more special. 
" My eureka moment…"

I always do my most creative thinking in my basement or when I am out on a bike. I think that's because there are fewer distractions there and I am able to take an idea from the eureka moment to a practical plan without the starting and stopping interruptions that usually kill a lot of my inspirations.
I started loving hot rods and custom cars at about the age of ten. Like a lot of kids my age I built cars from AMT model kits, read "Hot Rod", " Rod and Custom" and " Car Craft" magazines and went to occasional drag races. I have never really lost my love of hot rods and customs. After studying art and design
at Virginia Commonwealth University I began to see cars a little differently. I began to appreciate them as objects to be aesthetically considered in addition to the visceral appreciations I had learned as a kid.
About ten years ago I started again to subscribe to car magazines. I had been out of that loop for about twenty-five years. One of the trends that had occurred during my time out was the concept of "resto-mods". Essentially a resto mod is an old automobile that is pretty much stock appearing but underneath is state of the art contemporary.
" A repli-mod."
So I was sitting in my basement looking at my L-KPC and started thinking along the lines of " Now what can I do to take this L-KPC further? " Why can't I have TWO L-KPC's?" I wondered what an NEW LKPC would look like  30 plus years after the production run ended or more to the point I was headed toward, a contemporary L-KPC  repli-mod. I envisioned commissioning a Mert Lawwill-Don Koski tribute replica of my first LKPC. My eureka moment happened. I wanted to have an L-KPC 2 designed and custom built to my specs and looking look mostly like the original that was sitting in front of me but with high end, 2016 upgrades to the components. A repli-mod was what I wanted.
The human components to pull this off were almost all in place. I owned the original bike, loved the L-KPC's history, had owned the bike since 1981 and had the money to do this the right way.
"…eye popping, show winning, one off, never to be duplicated…"
In restoring my L-KPC I had gotten to know Don Koski who had designed and built the prototype of the original L-KPC back in 1978. Don also designed the beautiful Cook Brothers Racing fork that became the iconic, must have, up-grade on many of the earliest backyard built mountain bikes and cruisers.
Don was a good friend of Mert Lawwill. They lived minutes apart in Marin County in the Bay Area of Northern California.
I was also a good friend of Aaron Dykstra the owner of Six Eleven Bicycles in Roanoke Virginia, my home town. Aaron and I shared a love of old bikes and bike history but most importantly Aaron was a four time Best in Show winner at the annual North American Handmade Bicycle Show, ( NAHBS)  the biggest such show in the world. Within a few days, I pitched the idea to Aaron and he was immediately on board. We agreed that he would build and fit out the bike's components to "show bike" quality. It could be an eye popping, show winning, one off, never to be duplicated, Mert Lawwill approved, Don Koski inspired, mountain bike.
" …original head tube stickers…"
So the ball was back in Don's court. He was immediately on board but I needed for him to vouch for my intentions with Mert. Mert, somewhere in his file cabinet according to Don, still had the original L-KPC head tube and down tube stickers which were central to my dream of building the L-KPC 2 tribute bike right down to the original foil stickers. I love history and Mert's stickers were a must have in my mind.
Don talked to Mert and Mert was definitely interested. I called Mert and found him friendly and honored at the idea of a beautifully executed tribute bike. Mert said that, yes, he still had some original stickers, but only ONE of the original head tube stickers but he would give it to me. Jeeze, I was excited! He and I exchanged several emails and a few days later Mert backed off a little after talking to his attorney. Mert was concerned about possible liability issues involved with a bike carrying his name but not built by him. I turned this over in my mind for a few days and came up with what turned out to be a solution to Mert and his attorney's anxiety. I emailed Mert a promise that Aaron and I would brass badge the bike as a " 1/1 Replica 611 Bike Co." and that the bike would also carry similar identification on the seat tube. There would never be any question in anyone's mind about the provenance of this beautiful mountain bike. Mert was happy and in several weeks I had the stickers in my hands.
"…a bit of a mash up build…"
Aaron and I had a second meeting in March 2014. This time we discussed the project in detail. I wanted a Lawwill-Knight Pro Cruiser 2 repli-mod tribute bike that gave many visual and component "nods" back to my original, thirty-three old L-KPC. My original L-KPC was a bit of a mash up build as no one in Richmond Virginia in 1979, had even heard of "mountain bikes" so the component build up was a wide open, clean slate.  I wanted the L-KPC 2 to show its roots from California and Japanese components. I wanted identical Candy Apple red color, original geometry and if any tubing sizes or details were changed I wanted to be able to rationalize them as legitimate repli-mod updates.
I gave Aaron and Ron Glowczynski of American Flyers Bicycle Shop in Roanoke, Virginia pretty much carte blanche freedom on the component build after I felt that we were 100% on the same page regarding the concept. I wanted certain components to be from the same manufacturer of my original L-KPC so I got beautiful Phil Wood hubs and bottom bracket, Magura bars, Carson Leh reupholstered my original Unicanitor Tour de France saddle. I
found NOS Christophe toe straps, mated them to custom made Campagnolo alloy buttons and modified some alloy Campagnolo toe clips from the day and applied them to my White Industries Urban pedals.
Things started to come apart a bit after Aaron sent the frame to Georgia to be painted in October 2015. Very long story short, Aaron's painter Hill Clark of Airglow, was very slow and at times non-communicative. Between October 2015 and Sept 2016 when I finally received the painted frame, there were times when I thought I would never see the frame or that it would be poorly painted, the decals improperly applied or damaged or gone. There was a multitude of ways the project could have died right there. In addition, Aaron had decided to get out of the bicycle business and, unlike what we had originally planned, the L-KPC 2 would never be shown at the annual North American Handmade Bicycle Show. As I write this I think mine is Aaron's last build. These were very difficult times for this project.
The frame finally arrived back from the painter in September 2016 and it was beautiful flawless Candy Apple Red.  Airglow had done a great job applying and clearing Mert Lawwill's gifted stickers. Aaron had at this point decided that he was not interested in ordering the components or building the bike up. That was no problem as I trusted Ron Glowczynski's resourcefulness and ability to master build a bike.  Without his problem solving and engineering skills, this project would have been dead in the water. Ron is a friend of 25 years or so, a master bike mechanic and owns American Flyers Bicycle Shop in Roanoke. 
Here is the build list:
STEM  Thomson X2 black
HANDLEBAR Magura X-Line SX black 
GRIPS  Magura NOS period appropriate from Jeff Archer at MOMBAT. RIP, Jeff.
HEADSET Chris King
SEATPOST Paul Comp
SADDLE  Cinelli Unicanitor Tour de France recovered by Carson Leh in 2015. I have owned it since the late 60's. The saddle had no identifying information on the underside or on the top but it looked exactly like another Unicanitor I own from m the same period. When I sent it to Carson Leh to recover he discovered the Unicanitor Tour de France info stamped on the TOP side of the plastic and thus covered up by the padded fabric. He said it is a pretty rare saddle.
PEDALS White Industries Urban
SHIFTERS  Sun Race thumbies  
FRONT DERAILLEUR Campagnolo Chorus
REAR DERAILLEUR Sun Race RDM91 
CASSETTE Sun Race CSM90
CHAIN  KMC X9
CRANK  White Industries M30 ENO
BOTTOM BRACKET PhilWood JIS
BRAKE LEVERS Paul Comp long pull
CALIPERS  Paul Comp Klamper
ROTORS  Magura Storm SL 
HOUSING Black
FRONT HUB Phil Wood Pro
REAR HUB Phil Wood Pro
SKEWERS  Phil Wood 
RIMS  Velocity Blunt 35 Anodized gold by Advanced Metal  in Roanoke Virginia 
SPOKES DT
NIPPLES DT
TIRES Panaracer Rampage
TUBES  26 x 1.9- 2.3  PV
RIM STRIPS Origin8
PAINT Airglow
The locally done gold anodized rims vary in color, depending on the lighting, from gold to green gold to brown gold to meconium gold and they look great partnered with the Candy Apple Red frameset, chrome fork, and low gloss black components.
An eccentric build? Phil Wood hubs, Campagnolo Chorus front derailleur, and Sun Race shifters? Actually, this was a calculated decision. Sun Race is nice, inexpensive equipment hardly in the Phil Wood, White Industries, Paul, Campagnolo range. But my original L-K PC was also an eccentric build and the few lower end components I chose for this repli-mod are efficient. I insisted on Magura bars and rotors because the motorcycle bars were my bars of choice on my L-KPC plus I liked the extra bomb proofing they provided. The Magura rotors were simply an aesthetic decision and I thought they were the best looking rotors available.
Thanks also to my friend Hank Ebert. Hank is a pro photographer. He took the pics of my original LKPC about three years ago. I was stunned when I saw them. I belong to several Facebook bicycle groups and see five to ten posted pictures every day. Some people take nice pictures but the results from a pro with proper skills, cameras, studio, lighting, and bicycle knowledge is like the difference between your high school yearbook's pictures and a New York fashion photographer's. This web page would not have happened without Hank's beautiful camera work.
Thanks also to Ron Glowczynski the owner of American Flyers Bicycle Shop in Roanoke, Virginia. This project was treading water during the component build-up. Ron made it an even nicer bike than I had expected when Six Eleven started the project three years ago. Ron's expertise and resources were central to my component choices. This bike would have been dead in the water if not for Ron's expertise.
"…late arriving well deserved respect."
Though Mert Lawwill and Don Koski have been inducted into the Mountain Bike Hall of Fame their ground breaking off road creation has been somewhat marginalized in the various histories of mountain biking that I have read. I hope this beautiful Lawwill Knight Pro Cruiser 2 repli-mod with its loving nod to its "mother " bike will give the original L-KPC a bit of late arriving, well deserved respect. At the same time, I think the L-KPC 2 will stand alone as an outstanding 2016 tribute to Mert and Don's 1978 design and marketing collaboration and their contributions to the big boom birth of mountain biking in northern California in the late 1970's.